Hornell students had the opportunity to test out their litigation skills during a mock trial class project. Business teacher Toni Nasca and the Business Law class invited local lawyer and Hornell High School alumnus  John Dagon to be the judge for their mock trial project in March.
"I've been helping Mrs. Nasca for many years as the judge during mock trials," Dagon, Class of 1982, said. "This is as good of a group as I've seen. The students came up with convincing arguments and represented their positions well."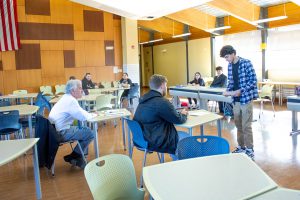 The students were divided into the defense, plaintiff and witnesses. Over the course of a month leading up to the trial dates they learned their roles, law terms, as well as developed a strong case for their side in hopes of winning the trial.
"I didn't know you could have re-directs or that you could object for narration," senior Alex Smith said, adding that she enjoyed being on the stand and felt like a real witness.
This year, the mock trial took two days, and was held on Feb. 14 and 15. The plaintiff had the burden of proof to win the case. Dagon said the defense team brought strong evidence to the court that swayed Dagon to determine they won the case. 
"We all worked together and talked about what information we had," junior Evan Clair said. "Developing good communication helped put pieces of the story together and made our case stronger."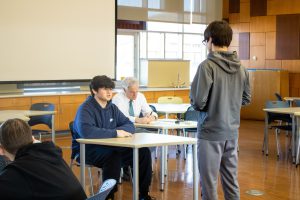 After the trial ended, Dagon talked to the students about the education requirements to attend law school, what the classes are like and what tests are required to practice law. He encouraged the students to think about pursuing law as a career and returning to Hornell to practice after passing the bar exam. 
"I enjoyed the experience," senior Connor Nelson said. "It was new to me and allowed me to see if this is a career option for me"
Students also said the project helped them understand how a court proceeding works. 
"I learned a lot about the correct way to respect the judge in a courtroom," junior Kathy Le added.