Hornell Curriculum and Instruction
Hornell City School District (HCSD) is committed to providing administrators, teachers, students, and parents the resources needed to engage all learners in authentic learning experiences so that upon graduation, students will emerge as creative, collaborative, critical thinkers who can communicate effectively and persevere in a rapidly changing world.
HCSD recognizes that emotional well-being is as important as academic success and that every child has the right to feel safe and have a sense of belonging within our school community. We strive to provide a variety of support and opportunities so that all students can realize their full potential.
As we strive for success for all students, the Office of Curriculum and Instruction will focus our efforts on the following key areas:
NYS Next Generation English Language Arts and Mathematics Learning Standards

K-6 literacy instruction that includes Guided Reading, Interactive Read Aloud, Reading Mini-Lessons, Independent Reading, Phonics, and Phonemic Awareness Instruction.

Teachers College Writing Workshop in grades Kindergarten through 9th grade.

enVision Mathematics for grades K-6.

NYS Early Learning Standards

3PK and 4PK students experience a literacy-rich environment and play-based learning in their classrooms as well as outdoor Forest School across the year. 

NYS Standards and Instructional Resources

Standards-based unit development in all 7-12 content areas.

Integration of literacy skills into all content areas.

Professional curriculum development including support from Teachers College and Fountas & Pinnell Classroom staff developers in grades K-6.  

Differentiated instruction that meets the needs of all students with support from G & R Inclusivity Group including the Universally Designed Instruction model.

Professional development opportunities through GST BOCES, GV BOCES, and State/National Conferences.

Professional Learning Communities in grade level teams and departments PreK-12.

Vertical and Horizontal mapping of standards in grades 7-12 allows students to navigate a variety of academic programs, that include accelerated opportunities from the AP Board and Corning Community College.

Technology integration that enhances instruction supports standards-based curriculum development and focuses on increasing student achievement.
Assessments
HCSD is committed to providing each learner with high-quality instruction through a rigorous curriculum.  A comprehensive assessment system affords educators the opportunity to measure learner success and then utilize the information to improve teaching and learning.
Hornell believes that our assessment must align with standards, use multiple data sources, be embedded in instruction, and involve students in relevant and authentic experiences.  We believe that assessment is a system constructed with the learning destination in mind, designed to encourage and challenge students.  This system plans for the collection and analysis of data as evidence of progress towards learning, providing feedback and reflection for all stakeholders.
A few examples of assessments used in Hornell are;
Advanced Placement Exams

Benchmark Assessment System

Formative Assessments

Progress Monitoring

NY State Assessments

Regents Exams

Summative Assessments

Universal Screenings
Instructional Leadership
Decisions about curriculum, instruction, assessment, and professional development at the Hornell City School District are made through a collaborative process that includes leadership and staff from each building.  Through a collaborative process, decisions are made to ensure that all students experience a high-quality, academic program to meet their individual needs. 
Professional Learning Plan
Professional learning is a valued component of teaching and learning in the Hornell City School District. There are a variety of ways in which professional learning is leveraged in support of our mission, "to nurture, encourage and cultivate lifelong learners who contribute to a diverse society as productive citizens."  Professional learning activities are aligned with district goals and initiatives.
Response to Intervention
HCSD believes all students can learn, improve and achieve academic success. To ensure students meet these goals, we implement a Response to intervention (RTI) process so that students can receive appropriate support in order to grow academically, socially, and emotionally.  The RTI process includes teams of educators that:
Analyze normed assessment data, local and state assessment data, and teacher observations to identify students who may be at risk for not meeting grade-level standards in core academic areas and/or in need of social-emotional support.

Develop plans that use scientific, research-based instructional strategies to meet target students' goals in academics.

Evaluate and assess to determine the effectiveness of interventions and the rate of student growth.

Adjust student plans to offer opportunities for interventions based on student needs. The graphic below details Hornell's three-tiered approach: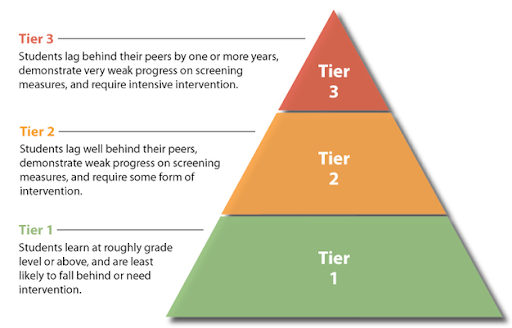 When students make progress towards meeting grade-level standards, a team of educators will reconvene to determine whether or not the student will be exited from RTI services. Families will receive written notification of when their child exits or enters RTI services.
Grade Promotion and Placement Policy
Grade promotion and the placement of students within the District's instructional system shall be at the discretion of the school administration and shall be subject to review at any time. In making such decisions, the administrator or Building Principal will be guided by: performance in class; past records, including various measures of student growth; recommendations from parents, persons in parental relation to District students, and teachers; and any other appropriate sources of information,. With regard to student placement decisions, parents or persons in parental relation to District students may submit written requests for teacher attributes that would best serve their child's learning needs; however, requests for specific teachers will not be honored.
View the district's Promotion and Retention of Students policy.