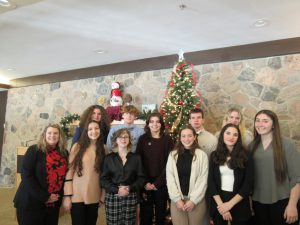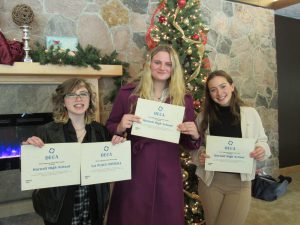 The Hornell Distributive Education Club of America (DECA) club competed regionally at Alfred State College on Dec. 21, 2022. For many of the 11 students in the club this year, it was their first time participating in the regional competition.
Jasmine Jarbeck, a first-year DECA member, placed first in the overall competition. Her award included a $500 scholarship should she decide to attend Alfred State. Fellow members Natalie Dodge and Stella Carretto will join Jarbeck at the state competition in Rochester in March.
DECA is a marketing/business club that prepares emerging leaders and entrepreneurs in high schools and colleges around the globe. There are more than 5,000 chapters worldwide.
"The students have put in a lot of work to prepare for the competition," said DECA Advisor, Pamela Mendel. "I'm proud of how they represented the district."
In the competition, students are given a marketing concept and they must come up with ideas and recommendations. Students have ten minutes to prepare a presentation, and share their ideas to a panel of judges.
The DECA club is open to students in grades 7-12. Beyond participating in competitions, the Hornell DECA club runs the school store in the high school, giving members the real-life experience of running a business.