The Intermediate School Drumline and choral program brought home gold from their competitions this school year. 
The drumline, directed by Intermediate School band teacher Julia Butts, is composed of 25 students in grades 4-6. 

"I love drumline," sixth grader Noah Fanton said. "I think it's one of the best parts of school. I like that I get to bang on the drum." 
The students earned a gold rating with a score of 80.4 at the New York State Percussion Circuit Championships on April 2 at the Gates-Chili High School. They competed in the PSA-Standstill Cadet category. 
"This is my first year participating in drumline," said fourth grader Peyton Mullen. "It's helped me get used to performing in front of big audiences."
The music program competed at the 2023 Music Festival at Six Flags Darien Lake on May 22. The festival provided an opportunity for the students to receive year-end assessments from a panel of experienced music educators.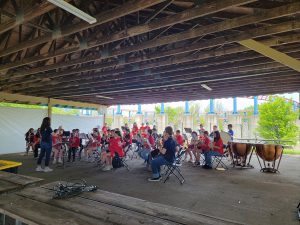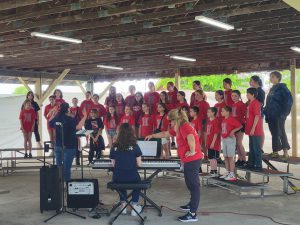 Each ensemble that competed received the score of gold with distinction. The sixth grade choir finished in fourth place, the Select Choir made up of students in grades 4-6 finished in third place and the sixth grade band finished in first place. Butts accompanied the choirs on the piano and received the Accompanist Award.
Congratulations to the Intermediate School music programs on their success this school year.