The Hornell High School Music Department performed for the last time this school year in May. 
Vocal Music Program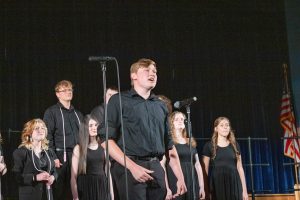 The Vocal Music Program performed for a full audience on May 16 with a special guest appearance from the Intermediate School Select Choir. Director Chris van Leeuwen recognized  a member of each ensemble who demonstrated exemplary effort, ability and dedicated participation with an Outstanding Achievement Award. He also honored members of the senior class throughout the evening. 
See the full list of awards below. 
Junior High Choir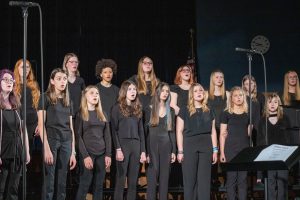 The Junior High Choir received a gold rating at the New York State School Music Association (NYSSMA) Choral Majors Festival hosted by the Alfred-Almond Central School District on May 18. A gold rating is awarded to ensembles demonstrating an outstanding level of technical and artistic skill. The Hornell choir performed a Level 3 Program in front of two state-trained choral adjudicators and received its rating based on the group's musical performance. 
Level 3 is classified with increasing demands of techniques and range recommended for advanced middle school, junior high, and some high school ensembles. Groups must perform three pieces with two selections coming from the NYSSMA manual.
Majors Festival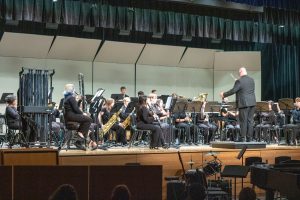 On May 4, Hornell High School hosted the New York State School Music Association annual Majors Festival. 
The High School Symphonic Band band was awarded a gold rating for its level 5 literature. The Junior High Band achieved a silver rating on its level 3 program.
Ensembles are graded on a rubric that evaluates tone, intonation, balance, technique, accuracy/execution, rhythm and interpretation.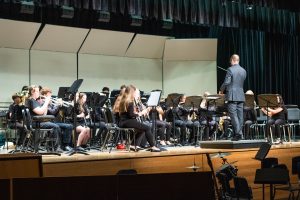 The Junior High and Symphonic bands performed their final concert on May 23. 
Congratulations to all Hornell student musicians on their achievements this year. 
HHS Vocal Music Program Awards:
Senior High Choir: Alexander Smith, senior
Treble Choir: Lucille Logan, sophomore
Jazz Choir: Joseph Shick, senior
Show Choir: Brianna Tingley, senior
Chamber Choir: Isabella Barnes and Jasmine Jarbeck, senior(s)
Junior High Choir: Peyton Eicher, 7th grade female
Junior High Choir: Porter Meese, 7th grade male
Junior High Choir: Adrianna Fortuna, 8th grade female
Junior High Choir: Cameron Driesbach, 8th grade male
Summus Profectus (Most Improved):

Member exhibiting a perceptible amount of musical growth and desire to enhance their musical aptitude: Tennile Cotton, senior

Semper Fidi (Always Dependable):

Member displaying a steadfast work ethic and selflessly sacrificing countless hours to their ensemble and program: McKenna Donlon, senior

Ductus Exemplo (Leadership by Example):

Member displaying above and beyond excellence while serving as a model for the program and community: Trey Woolwine, senior