Hornell High School senior Emily Smith's ceramic piece entitled "Harley Quinn" was awarded "Co-Best Of Category: 3D / Sculpture / Ceramics" in the 2021-2022 High School Juried Art Exhibition at the Regina A. Quick Center for the Arts at St. Bonaventure University.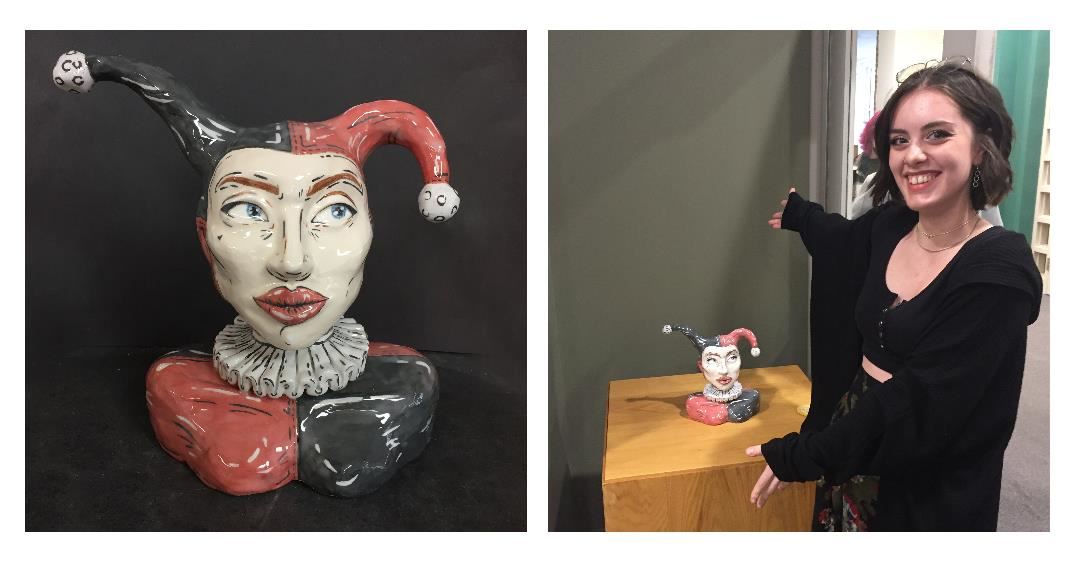 High School ceramics teacher Thom Elwell said, "This is a challenging show for students to get pieces accepted. It is an honor for Emily's sculpture to be on display and win a best of show award."
The awards ceremony was a part of the show opening on Monday, April 4. Elwell, Smith and her family were in attendance. Smith received a certificate, art supplies and cards personalized with her award-winning piece.
Smith said, "All the teachers in the art department have been supportive and encouraging during my high school career over the years they have helped me participate in a variety of shows. I look forward to using the skills and passion they have instilled in me as I continue my higher education." Smith plans on attending college for fine arts in the fall.
The show will be on view at the Quick Center for the Arts at St. Bonaventure University through May 15 and is open to the public. 
---
The following is the artists' statement submitted by Smith with her sculpture: 
About My Art Practice
I have been doing art for about 12 years now, or as long as I can remember. For me, I love how there is no way of knowing what art can and can't be. It is more so up to the viewer, and what they are drawn to. It can also impact an individual's life so much in such a short time. I find myself using paper and graphite the most out of all the different mediums. There's a variety of ways that the piece can look with only using those two objects. It is also very controlled in the sense that you know exactly how it will look as you use them. However, I appreciate all different forms of art and can find beauty in each one. Some of my favorite artists are Jim Lee and Salvador Dali. I love Jim Lee's comic book style, it is very strong and dark. A lot of my sketches are inspired by his work. For Salvador Dali, it is the mystery behind the piece, thought-provoking which leaves the viewer to decide what each of his pieces means. The attention to detail is astonishing. 
About My Artwork
My artwork doesn't have a message to it. The sculpture was a school project that my ceramics class did this year. We all got to pick a person or character to create out of clay so I chose Harley Quinn, one of DC comics villains. She's chaotic, bright, and beautiful and I thought it would be fun to create her in my style based on Paul Dini's version. Out of the whole piece, I love her eyes the most. I think adding actual eyelashes and the small details to the color of the eyes brings the character to life.