On Thursday, October 13, the auditorium was filled with the voices of over 160 students performing for their families and friends. The show featured music from the 1980's, including Sister Christian by Night Ranger, Sweet Child of Mine by Guns N' Roses and Girls Just Want to Have Fun by Cyndi Lauper.
"Simply put, the performance was fun," said High School Principal Morgan Allison. "The students did a wonderful job bringing back some great tunes from the 80's and the enthusiasm from the crowd was amazing. Great work, HHS!"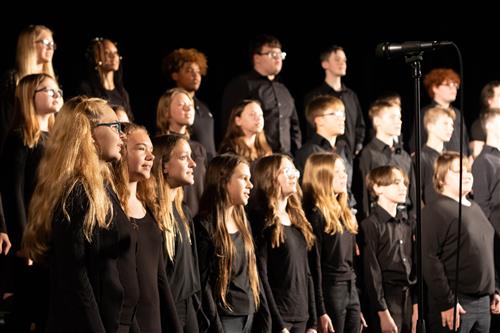 The Junior High Choir, Treble Choir, Show Choir, Jazz Choir and Senior High Choir performed to the piano accompaniment of Eric Prentice. Throughout the evening solo's were performed by McKenna Donlon, Elliot Bale, Kelsea Criss, Mayalana Ingalls, Alexander Smith, Autumn Newark, Giobanna Camacho, Porter Meese, Jasmine Jarbeck and Joseph Shick.
"What a breath of fresh air it was to see everyone back in our auditorium enjoying the results of hard work, dedication, and talent," said Choir Director Christopher van Leeuwen." "This community has always embraced the arts and the students and I are very grateful for their passion and enthusiasm for music."
This will be the only performance with an entrance fee. The proceeds will benefit this year's vocal competition trip to New York City in March 2023.
Between Junior High and Senior High, Hornell's Vocal Music Program has 16 students participating in Area All-State. The Hornell CSD will host the Junior High Area All-State concert on November 5, 2022. The Senior HIgh Area All-State concert will be held on November 19, 2022 at the Elmira High School.
The next Hornell High School vocal music concert will be on Tuesday, December 20, at 7:30 p.m. (free of charge!)