Western New York local, Dr. Ryan Vogt, visited the Hornell Intermediate School on Oct. 25 to hold Science, Technology, Engineering and Math (STEM) demonstration sessions throughout the day for students in grades 5-6.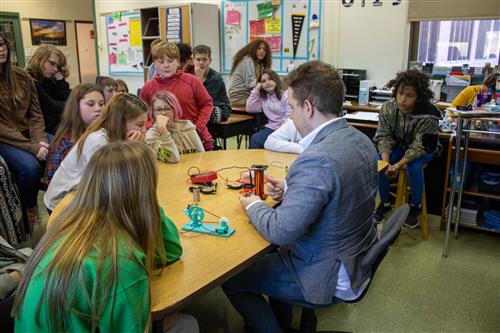 The sessions consisted of mini demonstrations, including Michael Faraday's magnetic field induction experiment to create electricity. Vogt used different magnetic metals, some more powerful than others. The experiment led to the invention of the first generator, leading the way for the U.S. to stay on the cutting edge of technology during the Industrial Revolution.
"[Today] we use Faraday's experiment to generate about 90% of electricity in the United States," said Vogt. "The only source of electricity that doesn't is solar panels. The only difference between how it's done in practice and the demonstration today is the scale."
Vogt is a mathematician and scientist in the U.S. Department of Defense, specializing in electricity and magnetism. He is visiting area schools to introduce students to science and math and how they are used to create electricity, to help inspire interest and exploration of an expansive field.
The visit comes as just one event honoring the Intermediate School's theme of "Out of This World." Throughout the school year, "Out of This World" is meant to encourage students to do their best and reach for the stars. Guest speakers such as Vogt show students that coming from a small town doesn't limit your ability to follow your passion and make an impact.