The 2021-22 school year has come to a close. We are proud of our students, who have had a great year, achieving success in the classroom, as well as in academic and athletic competitions.
Students show off their skills
The Hornell Distributive Education Clubs of America (DECA) team participated in the club's Regional Competition in December 2021. In the Marketing category, Kenneth Robinson (gr. 12) took first place; Mia Nasca (gr. 8) took second place; and Caylin Young (gr. 12) took third place. Robinson placed second in the overall competition. These students, along with Jane Spitulnik (gr. 12), went on to participate in the New York State DECA competition, which was held in March 2022. From there, Robinson and Spitulnik placed second and went on to compete in the final leg, DECA International, which was held in April 2022. Congratulations to our emerging leaders!
In March 2022, Hornell had students place in the SkillsUSA Area 1 competition. Kyle Bacon (gr. 11) placed third in the Criminal Justice category, with a second place nod to Alden Smith (gr. 11) in the Carpenter's Assistant Basic category; Ken Graham (gr. 11) in Criminal Justice; and Mackenzie Knickerbocker (gr. 11) in the Employment Application Basic category. Michael Kilsdonk (gr. 12)
took home first in Computer Maintenance. These students worked hard on their specialized skills in order to compete against students from CTE schools across Western New York, and it really paid off!
Music to our ears
The following month, in April 2022, the Hornell High School vocal music program participated in the WorldsStrides Onstage Choral Competition in Washington D.C.
They competed against schools from across the country in four categories: Senior High Choir, Jazz Choir, Treble Choir and Chamber Choir. Each choir won a gold distinction, and additionally, our team was awarded the Best Choral Program at the Festival, and the Jazz Choir was named the Best Overall Choir out of eight participating programs! Our students also won several individual awards. Hanna Newark (gr. 12) and Joshua Plank (gr. 12) earned Maestro (Solo) Awards, given to students who display extraordinary musical ability and sensitivity, and Choir President John Mikolajczyk (gr. 12) was awarded the Ovation Award.
Trey Woolwine (gr. 11) was chosen to represent Hornell in the All-State Choir and the National Association for Music Education's All-Nation Choruses.
In May 2022, the Hornell Music Department hosted an NYSSMA adjudication event for three local schools. The judges watched six bands perform, rating them based on their performances. Hornell's 6th grade band earned
a silver rating at level 1 music, the Jr. High band performed level 3, earning a silver rating and the Sr. High band earned gold with distinction at a level 5 performance.
The Intermediate School Drumline placed first in the NYS Percussion Circuit Championship at Onondaga Community College.
Band students in grades 9-12 formed a pep band that performed at home basketball games. This extracurricular band gives a "collegiate" atmosphere to the competitions and we are so looking forward to seeing them in action again next year!
Way to go, Red Raiders!
Hornell student-athletes continued a tradition of greatness in the classroom with 178 students qualifying as Scholar-Athletes by the New York State Public High School Athletic Association. The overall average of student-athletes participating on a varsity team was 93.3% and for the fifth year Hornell was named a School of Excellence.
This year, in competitions, Hornell athletics had many notable wins:
The Boys Varsity Soccer Team won the 2021 Sectional Championship.
Marek Kaszynski (gr. 11) broke the 100 yard backstroke record.
Mason Drew (gr. 12) was the Section V Wrestling Champion and qualified for states. Drew placed 7th in his weight class, finishing his high school career with over 200 wins, breaking Hornell's record for the most wins in school history.
Elaina Flaitz (gr. 11) won sectional titles in high jump and the 400-meter hurdles. She qualified for the states in the 400-meter hurdles, where she finished 5th and broke the school record with a time of 1:06.46.
Students from the High School, Intermediate School and North Hornell School also participated in the Special Olympics Western Regional Track & Field competition. The students were strong competitors and finished the
day with many successes.
One last achievement to share: Emily Smith (gr. 12) was awarded the
Co-Best Of Category: 3D / Sculpture / Ceramics at this year's High School Juried Art Exhibition, held at St. Bonaventure University.
Congratulations to all of our talented and hardworking Hornell CSD students!
District honors 13 retirees at June board meeting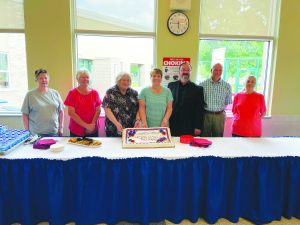 During its June 15, 2022 meeting, the Board of Education honored all the employees who retired during the 2021-22 school year. To recognize their years of service to the Hornell school district, each retiree received an engraved clock.
Edward Belin, Music Teacher, 27 in District (34 total)
Mary Cavalletti, Food Service Helper, 14 years
Kathryn Colucci, Teacher Aide, 16 years
Collette Cornish, Teacher / Library Aide, 19 years
Patricia Clancy, Senior Typist, 17 years
Damien DeMarco, English Teacher, 30 in District (37 total)
Sherry Kramer, Teacher Aide, 23 years
Barbara Leaman, Teacher Aide, 16+ years
Mary Mauro, Physical Education Teacher, 33 years
Lisa McNeill, Teacher Aide, 17 years
Janice Raish, Food Service Helper, 26 years
Nancy Thompson, Food Service Helper, 37 years
Jane Trescott, Cleaner, 8 years