Students in seventh and eighth grade recently went on a field trip to learn about the City of Hornell. Mayor John Buckley gave them a tour of City Hall, and the students were introduced to the history and opportunities that the Hornell Public Library has to offer.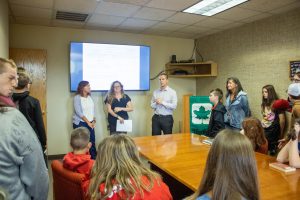 "The citizens are the real boss of the city," Buckley told students while looking at a flow chart of the departments that make the city function. 
After a tour of the building and seeing memorabilia from Hornell's history, students gathered in a conference room where they were introduced to the various department heads. Each person gave insight to the role they play within the city's organizational structure. 
At the public library, students learned about the history of the building, as well as the programs, services and events hosted at the library. With parental permission, many students received a free library card.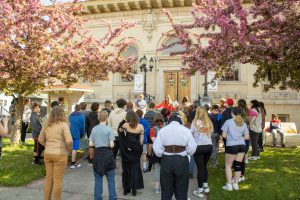 The building was formally opened on March 27, 1911. It was built with a gift of $25,000 by Andrew Carnegie with the condition that no admission can be charged for any entertainments held at the library. The Hornell Public Library is one of around 750 Carnegie Libraries still in operation today.
The library has held true to its promise to Carnegie to offer free programing to community members of all ages. This summer, the library is hosting a Summer Reading Program, starting on July 5, open to all ages. For students, it aims to help bridge the learning gap between the school years.  
"Visiting City hall gave me more insight on what it takes to make the city run," seventh grader Kelsey Criss said. "It was also interesting to learn more about the history of the library. I'm excited to take part in the summer reading program."