The 142nd Hornell High School commencement ceremony was held June 23, 2023 in the school's auditorium. The Class of 2023 consisted of 121 graduates, including 35 honor graduates, seniors who finished their four years of high school with an average of 90% or above.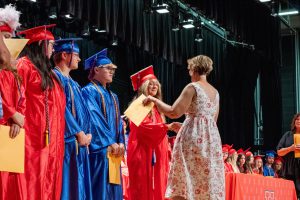 Thanks to the efforts of Hornell High School Alumni Association, $154,500 in grants and scholarships were awarded to graduates. Scholarships from local businesses and organizations totaled an additional $65,850.
Editor-in-chief of the 89th edition of the Maple Leaf Yearbook, Elaina Flaitz, presented the yearbook dedication to HHS history teacher and Hornell Class of 2000 alumni Paul Vetter.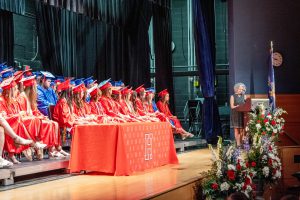 Commencement speaker Ellen Cohen, Class of 1972 and Deputy Director of Data for the Common Good at the University of Chicago, challenged graduates to show up for all opportunities and encouraged them to use the skills they acquired during the COVID-19 pandemic as they face future challenges.
"The fact that you showed up is what enabled you to be here tonight," Cohen said. "Persistence, resilience, ambition and accountability. The underlying drivers of why you showed up are the traits that will ensure your successes for years to come."
Valedictorian Madelyn Moore's speech echoed Cohen's message. Moore spoke about the adversity the Class of 2023 has faced, including remote learning, athletics and academics.
"Although you might think of adversity as a bad or negative thing, it builds people's character, helping them, especially kids our age, grow and develop," Moore said. "Everyone has overcome adversity. That is what got us here today."