Members of the local business community recently visited Hornell High School to network and connect with business students. 
"I appreciated the time they gave us," senior Emmalene Amann said. "They showed support in what we want to proceed with and much joy for their profession."
Representatives of the Hornell High School Business Advisory Board spent a day at the high school for the second annual HHS Business Day on May 18. Students gave presentations and the seniors had the opportunity to network with the board.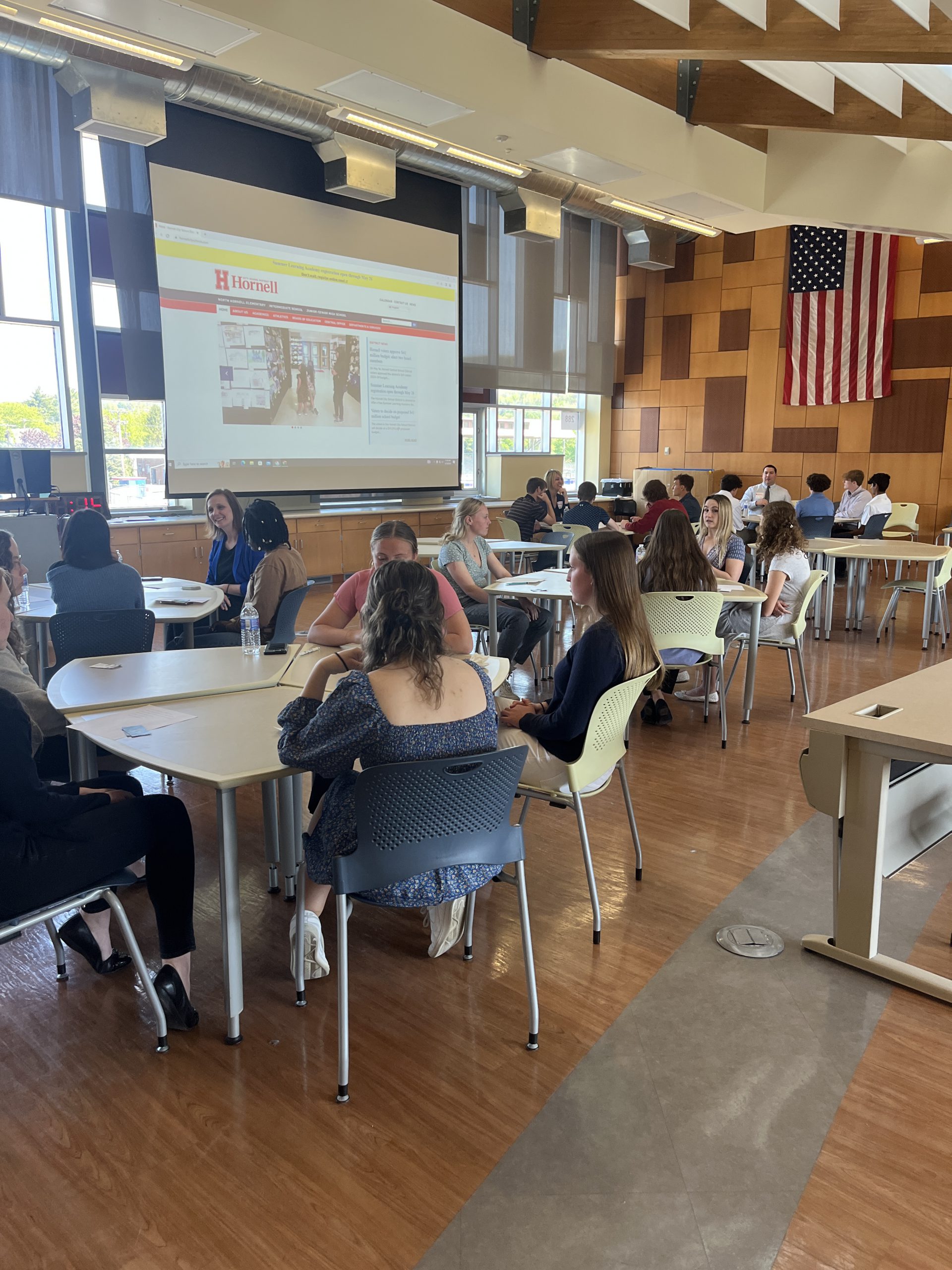 The event began with students from the Distributive Education Clubs of America (DECA) presenting ideas for four new Hornell businesses. Students in the web design, accounting, business law, and personal finance classes were divided into teams and worked virtually to prepare presentations for each of the four businesses. Students showed their ideas to our board members in a "Shark Tank" style presentation. The board members posed questions and provided feedback to each of the groups. 
"When I asked questions to the advisory board they offered helpful advice about college and future job opportunities," senior Elaina Flaitz said. "The experience has encouraged me to pursue participating in similar events in the future to gain more experience in formal communication and better interview skills."
Following the presentations, the professionalism class met with the board for a networking business luncheon hosted by Wegmans and First Heritage Federal Credit Union. This allowed the students to talk about their future college and career plans and hear advice from our board members.
"The Business Day helped me develop my communication, networking, and professionalism skills," senior Dane Thompson said. "Overall it was a valuable learning experience."
The event ended with the New York State Business and Marketing Honor Society Induction ceremony for students who have demonstrated outstanding achievement in a secondary business/marketing program. Susan Gorman, Alfred State College Assistant Professor of Marketing, served as the guest speaker. Inductees were Evan Clair, Kellen Crowe, Natalie Dodge, Kathy Le, Davin Oyer and Sophie Wilkins.
To be eligible, students must complete three units in the business/marketing program by the end of the current school year if they are a senior or two units with plans to continue for a third if they are a junior. Within these business classes, students must have an average of 88% or higher, while they must also maintain a minimum of an 80% overall GPA. In addition, students selected for recognition must demonstrate, both in the classroom and through extracurricular involvement, character, leadership and service. 
"The Hornell High School Business Department would like to extend our deepest gratitude to the members of our Business Department Advisory Board," Business Teacher Toni Nasca said. "You continue to guide and support us in providing the best possible business education to our students." 
The 2022-23 Business Advisory Board included: 
Victoria Cramp, College of Business Assistant Dean at Alfred University

Susan Gorman, Assistant Professor of Marketing at Alfred State College

Holly Hogan, former HHS Business Teacher and School Administrator

Dominic Matacale, CPA at T. F. Matacale CPAs

Christie Parsons, Marketing/Community Specialist at First Heritage Federal Credit Union

Danielle White, Vice President of Institutional Advancement at Alfred State College

Jane Spitulnik, HHS 2022 Outstanding Business Student and current business student at the University of Alabama.