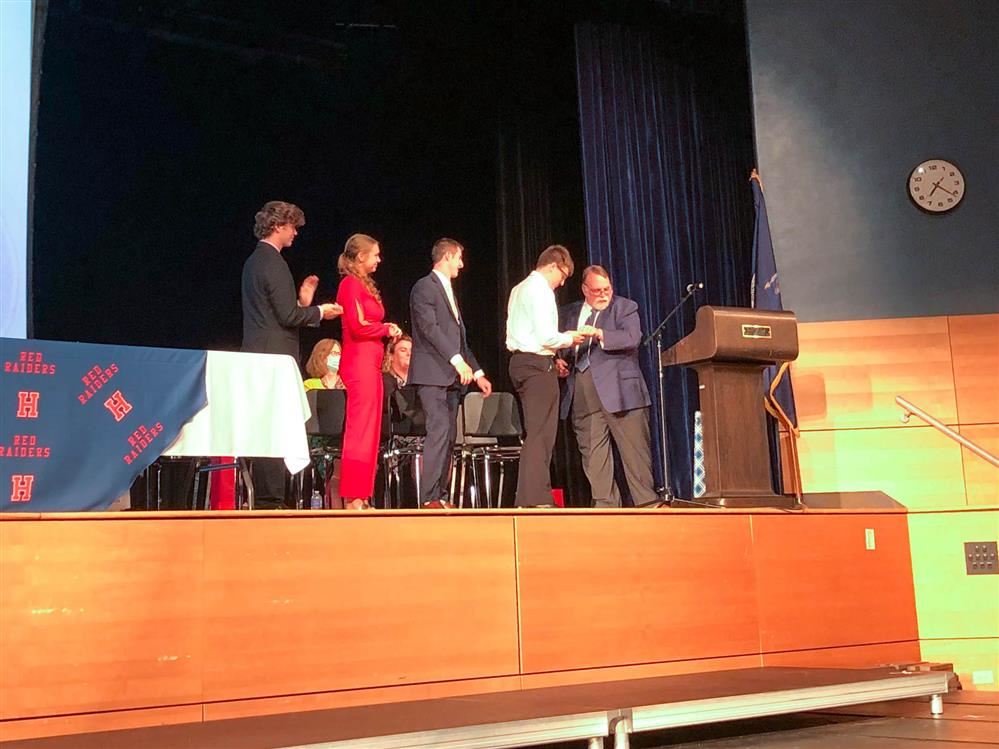 The Hornell High School Academic Awards Ceremony was on May 1, 2022. Congratulations to all the students who reached academic excellence in the 2021-22 school year. 
Boys State Award: Nicholas Oyer
Girls State Award: Kaylynn Hancock & Jane Spitulnik
The following students will be attending the Boys and Girls State during this upcoming school year:
Boys State: Joseph Shick
Girls State: McKenna Donlon & Jasmine Jarbeck | MacKenzie McDaniels
Academic Excellence Awards
To receive an Academic Excellence Award, each student had to attain a 90% average for each marking period. After each year of Academic Excellence, a student is awarded a different pin: 
A silver bar for their second year
A silver star for their third year
A gold bar for their fourth year
A gold star for their fifth year
And a gold lamp for their sixth consecutive year. 
The following 7th graders have met the criteria to receive an Academic Excellence Award and will receive a certificate and a first year letter:
Jasmine Avery, Elliot Bale, Elisa Bodin, Shae Bryant, Hayden Burritt, Cody Cardamone, Marianne Colson, Chloe Conner, Lara Connors, Lyla Dyring, Raegan Evingham, Adrianna Fortuna, Kasey George, Nathaniel Gross, Julia Hadsell, Allisa Haley, Riley Harwood, Rylee Haynes, Cole Hopper, Owen Hyer, Annye Jean-Louis, Ryan Le, Julianna Martin, Mason Monaghan, Kendal Mullen, Marrionna Passero, Kaylee Raish, Erin Ross, Dennis Rudenauer, Paul Schroeder, Felipe Silva, Alexis Smith, William Smith, Evelyn Striker, Jordan Sylvester, Kaitlyn Teeter, Jordan Tinker, Mariah Torres, Braden Welker, Ella White, Madison Whitney, and Justin Zheng
The following students have also met the criteria to receive an Academic Excellence Award and will receive a certificate of achievement and a first year letter:
Ian Ashworth, Daniel Barnett, Alexa Breed, Aiden Burritt, Ava Combs, Elijah Chace, Sterling Chace, Evan Clair, Kellen Crowe, Demayne Dixon, Mason Drew, Caleb Galloway, Nicholas Gray, Kiana Hatch, Isabella Hennessy, Alan Hoffman, Andrew Hoyt, Cameron Hyer, Selena Maldonado, Colin McCumiskey, Conner Meehan, Troy O'Brien, Landon Phillips, Kevin Regan, Calissa Ritchie, Jayden Robinson, Patrick Robords, Christian Scott, Madeline Valentine, Christian Valle, and Olivia Vincent
The following students have attained Academic Excellence for a SECOND year, and will receive a certificate and a silver bar for their achievement: 
Ava Argentieri, Gabrielle Bailey, Payton Bentley, Alexander Bezant, Jaiden Brock, Stella Carretto, Rowan Diaz-Wing, Rylan Diaz-Wing, Jordyn Dyring, Wyatt Evingham, Maddox Feenaughty, Ella Foreman, Parker Graham, Canden Greenthal, Natalie Gross, Margaret Hall, Ashton Hooker, Mia Nasca, Hannah Newark, Trinity Ormsby, Davin Oyer, Marco Picco, Matthew Robinson, Claire Rose, Audrey Schmidt, Evan Snyder, Natalie Snyder, Dakota Soles, Chelsea Sylvester, Davvyn Thompson, Katherine Valentine, Enrique Valle, Sophia Vinluan, and Alfie Whiteley
The following students have attained Academic Excellence for a THIRD year, and will receive a certificate and a  silver star for their achievement: 
William Cady, Jordan Carey, Madyson Conner, Tayghan Doorley, Lucas Hancock, Chloe Harwood, Amaya Hoffman, Rachel Holbrook, Spencer Hopper, Christopher Hoyt, Lillian Hoyt, Isabella Hoyt, Michayla Hubric, Lauren Linehan, Lucille Logan, Zahra Mehr, Mia Mikolajczyk, Isabel Miles, Samuel Olix, Pasquale Picco, Lindsay Preston, Alaina Raish, Jazmyne Ridgeway, Madison Rudenauer, Samantha Sexsmith, Arieanna Simpson, Daniel Sisco, Alexis Smith, Calem Striker, Jaxson Tinker, Erica Welch, Nathan Wise, and Joanna Zheng
The following students have attained Academic Excellence for a FOURTH year, and will receive a certificate and a gold bar for their achievement: 
Quentin Bale, Kylee Bentley, Kaela Briggs, Taitum Buzzard, Brennan Delany, Savannah Dennis, McKenna Donlon, Laura Flaitz, Norah Foreman, Kadience Gollnitz, Riley Hyer, Mackenna Kiley, Demetris Madamopoulos, Logan McGregor, Nolan McGregor, Lillian Miles, Hunter Mosher, Autumn Newark, Jaden Ohara, Gabriella Passero, Emily Phillips, Gennaro Picco, Vivian Smith, Joris Theil, and Peyton VanCaeseele
The following students have attained Academic Excellence for a FIFTH year, and will receive a certificate and a gold star for their achievement: 
Emmalene Amann, Kyle Bacon, Allyson Buckley, James Davies, Ramsey Dean-Prince, Katie Do, Natalie Dodge, Elaina Flaitz, Kaylynn Hancock, Dylan Harwood, Jasmine Jarbeck, Makayla Kriner, Michelle Lian, Delia Logan, Brenna Lovell, Madison Lyng, Delaney Meehan, Madelyn Moore, Alexis Patrick, Trevor Payne, Joshua Plank, Abigail Sexsmith, Emily Smith, Luke Sullivan, Dane Thompson, Reanna Tierney, Ava White, and Trey Woolwine
The following individuals have attained Academic Excellence for the SIXTH Consecutive year of their academic career, and will receive a certificate and a golden lamp for their achievement:
Marie Aini, Liza Flaitz, Natalie Fortuna, Juliet Marino, John Mikolajczyk, Dominic Nasca, Nicholas Oyer, Ayla Prior, Jane Spitulnik, and Caylin Young
Presidential Awards 8th Grade
The Presidential Award for Academic Achievement is presented to students that have an 88% or higher final average in the 7th grade and the first three marking periods of 8th grade.  
Nash Adams, Jason Taft, Nazari Thompson, and Emma Yatauro
The Presidential Award for Academic Excellence is presented to students that have a 90% or higher final average in the 7th grade and the first three marking periods of 8th grade.
Payton Bentley, Alexander Bezant, Alexa Breed, Aiden Burritt, Ava Combs, Demayne Dixon, Jordyn Dyring, Wyatt Evingham, Maddox Feenaughty, Ella Foreman, Parker Graham, Nicholas Gray, Canden Greenthal, Natalie Gross, Margaret Hall, Kiana Hatch, Isabella Hennessy, Alan Hoffman, Joseph King IV, Selena Maldonado, Conner Meehan, Mia Nasca, Trinity Ormsby, Marco Picco, Calissa Ritchie, Matthew Robinson, Claire Rose, Audrey Schmidt, Joseph Smith, Evan Snyder, Dakota Soles, Davvyn Thompson, Katherine Valentine, Christian Valle, Olivia Vincent, Sophia Vinluan, and Alfie Whiteley
The Presidential Award for Academic Achievement is presented to Seniors with an 88% or higher final average in the 9th – 11th grades and the first three marking periods of 12th grade.
Richard Argentieri, Cassidy Cook, Maylen Harwood, Matthew McKee, and Meganne Spangenberg
The Presidential Award for Academic Excellence is presented to Seniors with a 90% or higher final average in the 9th – 11th grades and the first three marking periods of 12th grade.  
Marie Aini, Ian Ashworth, Gabrielle Bailey, Jaiden Brock, Abigail Cornish, James Davies, Sadie Diehl, Tayghan Doorley, Mason Drew, Liza Flaitz, Natalie Fortuna, Caleb Galloway, Kaylynn Hancock, Dylan Harwood, Jeremiah Howard, Andrew Hoyt, Nicholas Hurlburt, Cameron Hyer, Noah Jenkins, Thomas Jimerson, Delia Logan, Madison Lyng, Juliet Marino, Colin McCumiskey, Kyle McGregor, John Mikolajczyk, Dominic Nasca, Hannah Newark, Troy O'Brien, Nicholas Oyer, Joshua Plank, Ayla Prior, Kenneth Robinson, Patrick Robords, Daniel Sisco, Emily Smith, Jane Spitulnik, Erica Welch, Adrianna White, Caylin Young, and Madeline Zanghi
---
Larry Wassink Award: Claire Rose and Canden Greenthal
Spirit Award: Rainn Palmer
Triple C Award: John Mikolajczyk and Dominic Nasca
Comptroller's Award: John Mikolajczyk and Nicholas Oyer
Junior Awards
RIT Computing Medal: Dane Thompson
RIT Creativity And Innovation: Trevor Payne
Wells College: Abigail Sexsmith & Jasmine Jarbeck
Douglass And Anthony: Trey Woolwine
George Eastman: Makayla Kriner
Xerox: Ramsey Dean-Prince
Student Sage Award: Delaney Meehan and Gina Desanto
George H Ball: Emmalene Amann, Elaina Flaitz and Reanna Tierney 
Clarkson Scholars: Michayla Hubric
Clarkson Achievement: Natalie Dodge
Clarkson Leadership: Madelyn Moore
Elmira Key: Allyson Buckley
St. Bonaventure Bonnie: Brenna Lovell and Ava White
Outside The Ordinary: Luke Sullivan
Rensselaer Medal: Michelle Lian
Department Awards
Music Department
Malcom Cooper
Art Department
3d Art – Madison Morphy
2d Art – Erica Welch
Physical Education Department 
Junior High – Canden Greenthal
Senior High – Dylan Harwood
Business Department 
Junior – Delaney Meehan
Senior – Jane Spitulnik
Math Department
Junior High – Nicholas Gray
Senior High – Caylin Young
Science Department
Physical Science Junior High –Claire Rose
Physical Science Senior High – Dominic Nasca
Life Science Junior High – Ella Foreman
Life Science Senior High – Nicholas Oyer
Social Studies Department
Junior High – Olivia Vincent
Senior High – John Mikolajczyk
English Department
Junior High – Ava Combs and Maddox Feenaughty
Senior High – Kenneth Robinson
Spanish Department
Junior High – Christian Valle
Senior High – Arieanna Simpson
French Department
Junior High – Alexander Bezant
Senior High – Hunter Mosher
Technology Department
Senior High – Daniel Sisco