Hornell City School District students recently showed off their talents and skills in a competition with their peers from across the region.
Students who attend the Greater Southern Tier BOCES Wildwood Education Center participated in the 2023 SkillsUSA Area 1 competition on March 7 with career and technology education students from across western New York. Of the 37 Wildwood competitors, 15 took home medals and dominated many of the larger CTE schools. Hornell seniors took home five of the medals.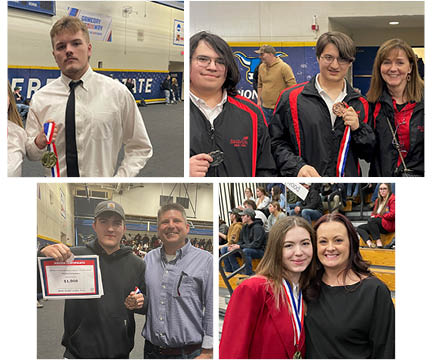 Kenneth Graham, Criminal Justice, and Mackenzie Knickerbocker, Employment App Basic, took first in their fields. Taylor Vanoxx placed second and Riley Shull placed third in Computer Maintenance. Norman McCumisky took third in Welding.
"As a district, we want to set up our students to succeed in life after graduation," Hornell High School Principal Morgan Allison said. "Wildwood BOCES provides learning opportunities for students to graduate ready to enter the workforce if that's what they choose. We are proud of how students from Hornell are thriving in their programs."
SkillsUSA is a United States career and technical student organization serving more than 395,000 high school, college and middle school students and professional members enrolled in training programs in trade, technical and skilled service occupations, including health occupations. Each year they hold competitions where students demonstrate knowledge of their specialties.