The 2022-23 school year has come to a close, and Hornell City School District students had many achievements in the classroom as well as in academic and athletic competitions.
North Hornell | Intermediate School | Hornell High School | Music Department | Library | Athletics
North Hornell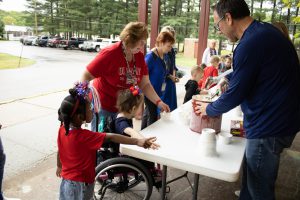 Students at North Hornell earned over 10,000 Red Raider tickets for the Positive Behavioral Interventions and Supports (PBIS) challenge. As a reward for the students' hard work throughout the school year, they were treated to an ice cream party complete with chocolate fudge and sprinkles.
A building initiative during the school year was to help students learn more about the community by visiting sites off school grounds, such as the Hornell City Hall and North Hornell fire station.
The district worked in partnership with the Cummings Nature Center to provide the PreK program with a weekly Forest School activity. Each class spent an hour in an outdoor classroom enjoying unstructured play, curiosity-driven exploration, hands-on projects and developing outdoor skills.
Intermediate School
The Intermediate School's 2022-23 school year theme was "Out of this World." Students earned cosmic cash from staff members for completing tasks, being helpful to others and going above and beyond expectations. The students could then redeem the cash for prizes. Assemblies, decorations and a weekly video newscast, called WRRS, were space themed.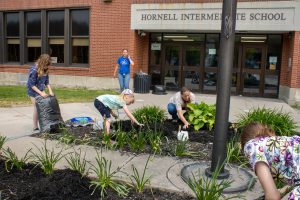 This was the first year of the Intermediate School's Student Ambassador program; 14 students participated. Their duties included helping at such events as open houses, concerts and assemblies. Next year, the program has expanded to include 26 students.
Each trimester, the students were encouraged to participate in writing and drawing contests. Award-winning submissions were selected in both categories for each grade level.
In February, Intermediate School students in grades 3-6 took to the stage performing "Frozen Jr." The cast and crew expressed appreciation for all they learned from the experience and are looking forward to being in future performances.
A total of 15 students participated in the school's first annual Spelling Bee. Fifth graders Carson Bebout and Abbas Kazmi were named school finalists and moved on to the Scripps Regional Spelling Bee at Corning-Painted Post Middle School.
In partnership with the Family Resource Center of Hornell, the Intermediate School hosted a Treasure Hunt on Resilience as well as offering a free screening of "Resilience: The Biology of Stress and the Science of Hope." Both events encouraged families and community members to learn about research and tactics to cope with childhood stress.
This spring, students and staff planted a school garden that includes vegetables and flowers. The garden is open to the public over the summer, and community members are encouraged to help care for the garden and take some vegetables home.
Hornell High School
Hornell High School's theme was "rise up together and become a stronger community."
On the first day of school, students were encouraged to write down their goals for the school year on a display located in the front lobby. Throughout the year, students walked past their goals as a reminder of what they hoped to achieve.
Senior Vivian Smith was awarded academic honors from the College Board National Recognition Program. She earned this distinction due to her academic achievements in school and performance on the PSAT exam and AP test scores.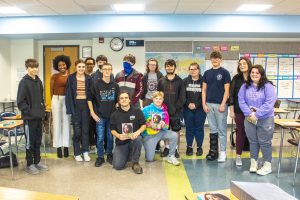 Hornell's National Junior Honor Society (NJHS) and National Honor Society (NHS) held their annual induction ceremonies with NJHS inducting 38 students and 26 students joining NHS. To be eligible for both groups, students must have a weighted core GPA of 90% or higher and embody the qualities of character, leadership, and service. Members of NJHS and NHS volunteer within the school district and community.
The Wildwood BOCES Campus chooses a student of the month for each of its programs, and 15 Hornell students were recognized throughout the year. To be selected, students must demonstrate a high level of understanding and dedication to their field of study. The following students were chosen: Kyle Bacon, Logan Burdick, Ramsey Dean-Prince, Isiah Fultz, Julieanna Hanchett, Sophia Harwood, Matthew Kilsdonk, Sybella Kuenzli, Brenna Lovell, Karlie Parker, Trevor Payne, Riley Shull, Alexis Smith, Riley Smith and Taylor VanOxx.
The annual SkillsUSA Competition allows students to demonstrate knowledge of their specialties. At this year's competition, five Hornell seniors brought home medals: Kenneth Graham, Criminal Justice, and Mackenzie Knickerbocker, Employment App Basic, took first in their fields. Taylor VanOxx placed second and Riley Shull placed third in Computer Maintenance and Norman McCumiskey took third in Welding.
The Hornell Distributive Education Club of America (DECA) competed regionally at Alfred State College, where Jasmine Jarbeck, a first-year DECA member, placed first in the overall competition. Fellow members Natalie Dodge and Stella Carretto advanced with Jarbeck to the state competition that was held in Rochester.
Secondary mathematics and science teachers Tanya Ross, Gillian Brubaker and Meg Bonacquisti became teacher leaders who impact science, technology, engineering and math (STEM) through the Be-A-JEDI program as a part of Noyce Master Teaching Fellowships. The fellowship is meant to foster a STEM Culture of Belonging, Access, Justice, Equity, Diversity and Inclusion for the students and throughout the school.
The High School Drama Club performed two productions with a cast of students in 7-12 grade. The fall production was called "A Night of Suspense" and consisted of a series of radio productions themed for the Halloween season. The spring musical, "Godspell," was performed with a cast of 14 students.
In the spring, guest speaker and author Sandra Uwiringiyimana challenged students to "set a goal of leaving the world a little better than you found it." Uwiringiyimana spoke at grade-level assemblies, had lunch with NHS and NJHS students and participated in a round table discussion with students in the school's Human Rights elective.
The school year concluded with an academic and athletic awards ceremony, yearbook assembly and the graduation ceremony for 121 seniors.
Music Department
The Hornell City School District Music Department upheld a standard of excellence while performing multiple concerts in the school and throughout the community, and students earned a number of awards from competitions.
The High School Symphonic Band welcomed Dr. Jared Chase, Director of Bands at Nazareth College, to direct them leading up to the joint performance at Nazareth College.


Hornell High School

The Vocal Music Program was awarded the Sweepstakes for Best Choral Program at their Spring Choir Competition in New York City. Hornell took four choirs to the competition: Senior High Choir, Treble Choir, Chamber Choir and Jazz Choir. Each achieved a gold rating achieving a score between 85 and 100 and placed first in their categories. Seniors Joseph Shick and Jasmine Jarbeck were awarded Maestro Awards.
The Junior High Choir received a gold rating at the New York State School Music Association (NYSSMA) Choral Majors Festival.
Hornell High School Symphonic Band students combined their talents with the Canandaigua Academy Wind Ensemble in a joint performance at Nazareth College.
The High School Symphonic Band was awarded a gold rating for its level 5 literature, and the Junior High Band achieved a silver rating on its level 3 program at the New York State School Music Association Annual Majors Festival.

The Intermediate School Music Program brought home gold at the 2023 Music Festival at Six Flags Darien Lake.


Intermediate School

Intermediate School Drumline received gold rating at the New York State Percussion Circuit Championships.
The Intermediate School Music Program competed at the 2023 Music Festival at Six Flags Darien Lake. Each Hornell ensemble that competed received the score of gold with distinction. Instrumental teacher Julia Butts accompanied the choirs on the piano and received the Accompanist Award.
Library
In the 2022-23 school year, the three Hornell City School District libraries had over 58,000 student visits with a total of 23,591 books, graphic novels, picture books and other resources checked out by students and staff.
Over 635,000 online reference and educational materials were accessed by students to develop projects, complete research assignments and write papers.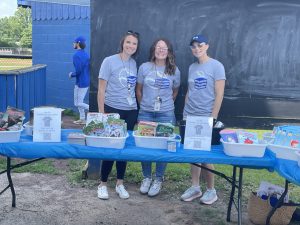 The Intermediate School completed year two of a five-year literacy grant. A portion of the funds were used to add 49 books to each student's at-home library. Books were given to students at monthly giveaways, open house, a "book on every bed" initiative, child abuse awareness event as well as a "Baseball & Books" game hosted by the Hornell Steamers, a New York Collegiate Baseball League team.
Athletics
The Hornell Red Raiders had 273 student-athletes participate at the varsity level in the 2022-23 school year. They finished the school year with a combined average of 93.3% with 200 named Scholar-Athletes by New York State Public High School Athletic Association (NYSPHSAA).
Hornell was named a School of Distinction by the NYSPHSAA. To achieve this status, 100% of the varsity teams have to qualify for and receive the Scholar-Athlete team designation during their respective sports seasons.
In competition, the Red Raiders set records and were recognized for their achievements.
DeLany and Flaitz were named the 2022-23 Hornell Senior Athletes of the year. During their final year as a Raider, they were named All-Greater Rochester First Team for Outdoor Track and Field, broke records and competed at the
New York State Track Meet.


The girls swimming and diving team received the 2022 Sportsmanship Award by the Southern Tier Officials Association. This award is voted on by officials who have watched the athletes throughout the season.
Hornell CSD senior Jack Emo made history in the fall soccer season by scoring the most goals in a single season, finishing the season with 25 goals and 8 assists.
The varsity girls basketball team brought the school's first girls basketball Section V title home to Hornell. Senior Madelyn Moore was named the Section V tournament most valuable player.
Hornell High School junior Gennaro Picco made a three-point shot in a game against the Haverling Rams to surpass his 1,000th career varsity point total. Since 1993, only nine boys and girls varsity basketball players have achieved this goal.
At the Livingston County Athletic Association conference swim meet, Marek Kaszynski, Dane Thompson and Calem Striker were named All-Stars from the Hornell team, and Coach Kelly was named the LCAA Coach of the Year for the boys swimming and diving season.
The varsity wrestling team won League Champions.
Senior Brennan DeLany set multiple outdoor track and field records. DeLany's triple jump of 46′ 5″ broke a school and a 50-year Section V Class B record and with a vault of 13′ 7″, he broke a school record set in 1994.
Senior Elaina Flaitz also broke two school records, the indoor track and field season high jump record with a jump of 5'4″ and outdoor track and field 400 hurdles record with a time of 1:05.4.
Hornell sent a team of five athletes to the State Track and Field meet: DeLany, Flaitz, Riley Harwood, Selena Maldonado and Ella White.