Athletic trainers are health professionals who specialize in sport specific injuries along with immediate emergency care. The Hornell CSD has an athletic trainer through Maple City Physical Therapy.
Athletic Trainer
Lyndsey McCoy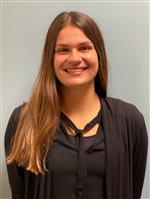 Phone: (607) 324-1303
Email: lyndsey.mccoy@hornellcsd.org
Lyndsey McCoy is starting her second year as Athletic Trainer at Hornell CSD through Maple City PT. Lyndsey completed her Bachelor of Science in Athletic Training with a minor in Exercise Science from Alfred University in May of 2021. Her clinical rotations included covering football, track and field, softball, lacrosse, basketball, soccer at both Alfred University and Alfred State. When Lyndsey is not working, you can catch her running, fishing, or baking.
Education:
Bachelor of Science in Athletic Training w/ a minor in Exercise Science – Alfred University, Alfred NY
Certifications:
Board of Certification for Athletic Trainers (2000041333)
Myofascial Cupping Practitioner 
American Red Cross – CPR/First Aid for Pro Rescuers; Responding to Emergencies; First Aid
Psychological First Aid: Supporting Yourself and Others During COVID-19
Professional Membership:
National Athletic Trainers Association (Member): 2018- Present
Athletic Training Room Rules
All athletes receiving treatment must sign in before receiving any treatment; this includes "just getting ice or a band aid"
Athletes will be treated on a first come first serve basis on practice days. On game days, away athletes will receive treatment first, followed by home game athletes, and then lastly those who have practice.
Wait in the hall / cafeteria if I am currently working with an athlete. 
No profanity, derogatory/abusive or disrespectful language allowed. 
Make sure to use indoor voices and keep your behavior in check.
No food or beverages, other than water, is allowed in the athletic training room.
Please leave bags, shoes and other clothing outside of the athletic training room. DO NOT leave stuff on the floor or in front of the doorway.
Student-athletes are not permitted to discuss the health information of any athlete that is receiving care within the athletic training room.
Please arrive early before practice or games for new injury evaluations, taping, stretching or rehabilitation.
Notify the athletic trainer of a new injury immediately.
Any student-athlete found not following these rules will be asked to leave.